"The Project for Workplace Improvement & Satisfaction of Employees in Hanoi region, Vietnam" has been commenced in Hanoi, Vietnam, as part of JICA Partnership Program.

(June 20, 2016)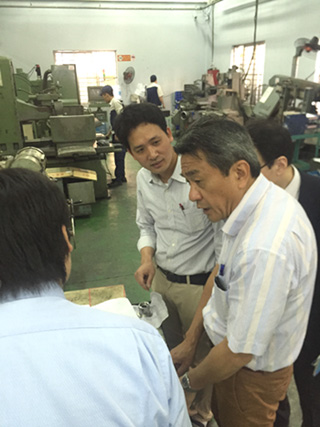 Initial visit to the local pilot company.
For 2 years from June 2016 to March 2018, Japan Productivity Center (JPC) aims to improve workplace and employee satisfaction of local 16 pilot small to medium companies in total. At first, the employee satisfaction survey will be conducted and various factors which are not only wage level and personnel evaluation system, but also management of labor hours, understanding corporate, relationship among colleagues, management of supervisor, fulfillment of job and career development will be analyzed. In addition to analyzing these factors, JPC applies diversified approaches to improve operation processes and work environment. That is, the total process of workplace improvement and enhancement of employee satisfaction will be systematized in the best suited framework and this framework will be transferred to Vietnam National Productivity Institute (VNPI) at the end of this project. Within this 2 years, to cultivate simultaneous achievement of employee satisfaction and productivity improvement, JPC will organizes the seminars to announce the achievement of Kaizen activities and award the best practices with the support of VNPI.
<Utilizing Employee Satisfaction Survey>
This project aims to utilize Employee Satisfaction Survey for the issue analysis. At first, this survey will be conducted before Kaizen activities. It will not only measure the total satisfaction, but also identify the key factors influencing the total satisfaction, and visualize employee satisfaction.
<Steps to reach whole industries and throughout Vietnam from each employees level>
With this project, JPC plans to enhance productivities of whole industries and throughout Vietnam from each employees level by focusing on employees satisfaction and following the below steps.