Pan-African Productivity Association (PAPA) and Japan Productivity Center (JPC) concluded a memorandum of understanding (MOU).

(August 27, 2016)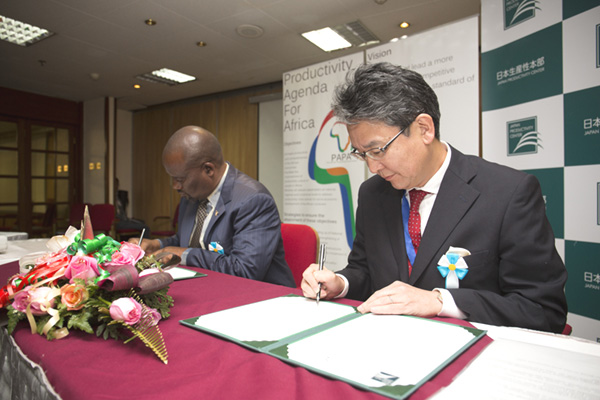 Mr. Baeti Molake, Chairman of PAPA and Executive Director of Botswana National Productivity Centre,
and Mr. Yukihiro Okawa, Executive Director of JPC.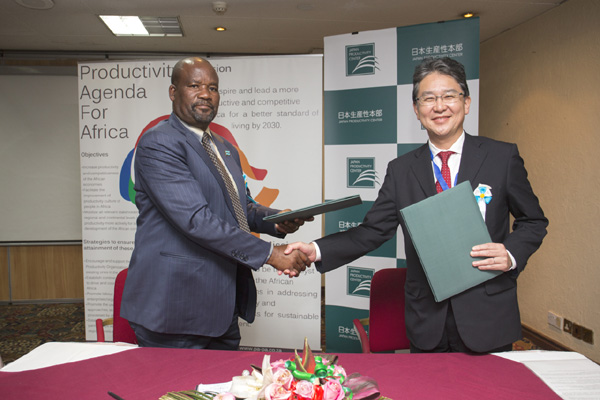 A memorandum of understanding (MOU) was concluded between PAPA and JPC.
TICAD, an international conference, has been held as a venue to continue discussions on its main theme of African development with participants from around the world, led by the Japanese government since 1993. The latest meeting was organized in Nairobi on August 27 and 28, 2016. This was the first installment of the conference held in Africa.
Along with the conference, a Japan Fair of Japan External Trade Organization (JETRO) and many side events were held. Approximately 11,000 people attended the meeting and side events including representatives from 53 African nations, development partner countries and Asian countries as well as those from international institutions, regional institutions, the private sector and the civil society such as, nongovernmental organizations (NGOs).
JPC organized a side event, "Technology Enabling Innovation and Industrialization in Africa" in a hotel in Nairobi on August 27, co-hosted by Ministry of Economy, Trade and Industry of Japan (METI), Investment and Technology Promotion Office, Tokyo of United Nations Industrial Development Organization (UNIDO ITPO Tokyo) and Overseas Human Resources and Industry Development Association (HIDA).
In the opening remarks, Mr. Michio Daito, Director of Technical Cooperation Division, Trade and Economic Cooperation Bureau, METI touched on 5S and Kaizen that contributed to Japanese economic development and later permeated through many Asian countries from after 1980s, showing high expectations for the cooperation between PAPA and JPC to assume an important role to extend business management skills including 5S and Kaizen to the whole Africa.
In a session whose theme was "Japan's Technical Cooperation: Productivity, Human Resources, Investment and Technology Promotion", Mr. Yukihiro Okawa, Executive Director of JPC, Mr. Hiroshi Kuniyoshi, Head of UNIDO ITPO Tokyo, Mr. Kazuo Kaneko, Adviser of HIDA, Mr. Makoto Watanabe, Executive Director of the New Energy and Industrial Technology Development Organization (NEDO), Mr. Takashi Hattori, Senior Managing Director and Chief Regional Officer for Pan-Africa of Toyota Tsusho Corporation appeared on stage. Executive Director Okawa explained what Japan's Three Guiding Principles in productivity movement were and concepts of 5S and Kaizen, and also spoke about the development of African productivity movement.
At the end of the side event, an MOU aiming at further extending productivity movement in the African Continent was signed between JPC and PAPA, a regional coordination body consisting of National Productivity Organizations from nine African nations such as, South Africa and Kenya.
In his remarks when concluding the MOU, Mr. Baeti Molake, Chairman of PAPA and Executive Director of Botswana National Productivity Centre showed appreciation for the more than a decade-long technical support by the Japanese government and METI. Mr. Molake also showed his commitment for future activities saying that successfully concluding the MOU with JPC was a good opportunity to further improve activities of PAPA and to gain momentum to increase its member countries.