The seminar to share the experience of 3rd semester of WISE Project was held in Hanoi, Vietnam and 173 people have participated.

(September 27, 2017)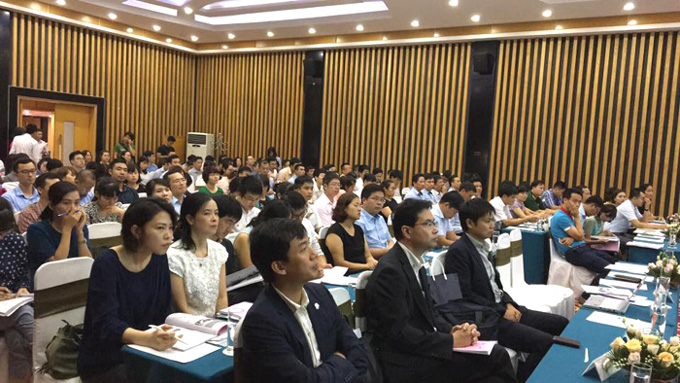 173 people has participated this seminar and the best practices of this project have shared.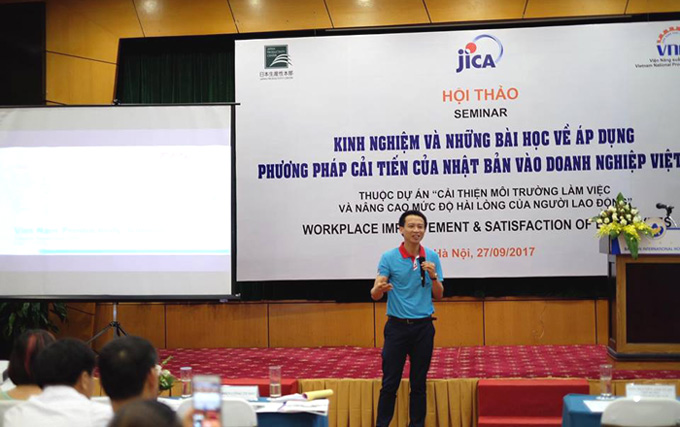 Representative of the local pilot company has shared their experiences.
JPC cooperated with VNPI has held the public seminar to report the 3rd semester of the project, "Workplace Improvement & Satisfaction of Employees (WISE) in Hanoi Region" at Bao Son Hotel in Hanoi on September 27.

This seminar has started with the opening speech from Mr. Tuan, the director of VNPI and Mr. Kuroda, the principal of Global Management Center, JPC, shared the brief information and the targets of WISE project.
After his speech, Ms. Huyen, one of the local members has shared her experiences and findings from this WISE project and how this project has influenced her real job. As a team leader, she also explained how her team has found the issues from Employee Satisfaction Survey, interviews and the site visits to the local pilot company and how they have attempt to overcome the issues.
Other 3 team leaders also have shared their team's activities and the results through the past 4 months, while the representative of pilot companies has reported their experiences and changes they have found through this project.

Over 170 people have joined this open seminar from different sectors and background, as well as local members and the representative of local pilot companies. From this semester, local coaches who are graduated from WISE project last year has joined to teach the basic skills required for consultation at the companies and lead the local members. Of course, these local coaches have come to congratulate the local members to this seminar.
From this sharing of the experiences to the public, the awareness of the importance of workplace improvement and employee satisfaction has been increased.

The last semester of this project has already started from September 25 with 26 local members and our final reporting event will be held on March 6, 2018.

<About this WISE Project>
The WISE Project has started in June 2016. This project is not only conducted by JPC members but also local members who are keen on studying and implementing workplace improvement and employee satisfaction for local companies. To begin with, we have set 10 days to learn the basic skills for consultation, analysis of Employee satisfaction survey and Kaizen methods for WISE project. From July 4, 2016, the local members are divided into 4 teams and started analyzing the issues for the 4 local pilot companies together with Japanese coaches. For 3 months, the local member together with the employee's team for the pilot company built for this project has conducted the action plan prepared from the analysis. This project plans to implement this to total 16 local companies in 2 years.