History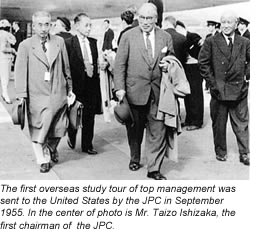 The Japan Productivity Center (JPC) was established in March 1955 by a Cabinet decision concerning measures for productivity improvement (Sept. 24, 1954).

Since its founding in 1955, the JPC upheld its basic philosophy of maintaining and respecting the human element in economic activities. It launched a nationwide productivity movement centered on Japanfs industrial society based on three guiding principles: expansion of employment; cooperation between labor and management; and fair distribution of the fruits of productivity among labor, management, and consumers. As a neutral tripartite organization representing labor, management, and academic experts, it contributed greatly to the development of Japanfs economy and the improvement of peoplefs lives.

The SECJ was founded in 1973 as a sister organization of the JPC to serve as a think tank for presenting timely policy proposals on important socio-economic issues with the aim of developing national consensus. Its activities encompassed a wide range of fields, including social, economic, and welfare policies, and involved the participation of opinion leaders representing various spheres of society, such as management, labor, academia, and consumer groups. For over 20 years, the SECJ worked with governmental agencies and other relevant organizations for the implementation of those policies. Furthermore, it played an active part in promoting specific policies for environment and energy issues, and displayed a strong ability to take decisive action.

The JPC succeeded the think tank function of the SECJ, and is pursuing the productivity movement from a more social perspective than ever before. It has strengthened its linkage with the Congressional Forum for New Japan (21 Seiki Rincho), and has subsequently launched various new programs. These include the National Forum on Entrepreneurship and Venture Business for revitalizing industries in Japan, the Japan Quality Award, a distinction awarded to companies displaying excellent management, and the Japan Society for Human Resource Management.
Chronological history
| | | |
| --- | --- | --- |
| 2013 | Oct | Forum of People and Management is established |
| 2012 | May | Japan Economic Growth Forum is established |
| 2012 | Feb | Japan Akademeia is established |
| 2011 | May | Japan Policy Council is established |
| | Nov | The JPC merges with the Japan Institute of Industrial Engineering |
| 2010 | March | Transition to Public Interest Incorporated Foundation |
| 2009 | Feb | Mentor Awards is Created |
| | Apr. | JPC-SED is renamed as JPC. |
| 2008 | Sep | The Council of Working Women's Empowerment is established |
| 2007 | May | The Council of Service Productivity & Innovation for Growth(SPRING) is established |
| 2006 | Aug | The Council for Promotion of Work-Life Balance is established |
| 2005 | March | The JPC-SED announces Declaration of the 50th Anniversary of the Productivity Movement.Towards a Society Based on Mutual Trust and Vitality. |
| 2005 | Dec. | The 50th Anniversary Productivity Symposium is held in Tokyo. |
| 2004 | May | First Manifesto Verification Conference (21Seiki Rincho). |
| 2001 | Jan. | The JPC-SED announces its productivity declaration for the 21st century. |
| 2000 | April | The Japan Society for Human Resource Management is established. |
| 1999 | July | The Secretariat for the 21st Century Provisional Commission for Administrative Reform is established. |
| 1996 | March | The International Productivity Center (IPC) is opened. |
| | June | The Japan Quality Council is established, and the Japan Quality Award is created. |
| 1994 | April | The JPC merges with the SECJ. |
| | | The Japan Productivity Center for Socio-Economic Development (JPC-SED) is established. |
| | | The JPC-SED announces its creed. |
| 1992 | April | The Secretariat for Political Reform Promotion Council is established. |
| | Sept. | The 5-year technical cooperation project for human resource development in Central and South America commences. |
| | Sept. | A delegation led by deputy chiefs of the China National Planning Committee is received by the SECJ. |
| 1990 | Sept. | The Project for Productivity Improvement Assistance in the Former Soviet Union and East European Countries commences. |
| 1989 | Oct. | The Political Reform Forum is organized. |
| 1985 | Nov. | The National Congress for Information Society Issues (the present Committee on Information Economy) is established. |
| 1986 | June | The Forum for the Reform of the National Railways is held. |
| 1984 | July | The Singapore Productivity Development Project is launched. |
| | April | The Information Center for Energy Education (now the Information Center for Energy and Environment Education) is established. |
| 1983 | May | The First International Productivity Symposium is held in Tokyo. |
| 1976 | May | The World Environment Expo is held in Tokyo. |
| 1973 | Nov. | The Social and Economic Congress of Japan (SECJ) is established. |
| 1971 | May | The first productivity cruise is launched. |
| 1965 | April | The Academy of Management Development is founded. |
| 1961 | April | The Asia Productivity Organization is established. |
| 1958 | Aug. | The first Karuizawa top management seminar is held. |
| 1956 | April | The Productivity Research Center is established. |
| 1955 | March | The Japan Productivity Center (JPC) is established. |
| | May | The JPC declares its three guiding principles. |
| | Sept. | The first top management mission (leader: Taizo Ishizaka) is dispatched. |